When I start working with a new website client, the first thing I talk to them about is their brand. If the client has some marketing experience, they usually catch on pretty quick. Some of them even know what their brand is and can give me solid instruction on how to build their website to fit their brand. But if the concept of branding is a new thing for my client, we don't usually get too far into the conversation when their eyes begin to glaze over from sheer boredom or confusion. As I continue to talk, they start to sweat and shake a little, and eventually, they run screaming from the room.
Okay, maybe I've exaggerated a bit, but the most common response to branding is Why? and How? Until now, I've only been able to recommend books that assume a certain level of marketing background to understand. True beginners can be overwhelmed by the massive influx of new information and jargon. One client told me it felt like she was trying to drink water from a fire hose.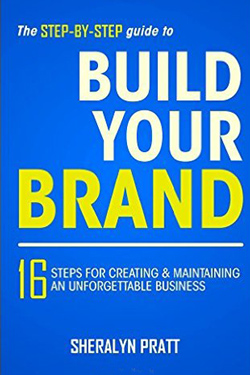 But I have great news! A new book—The Step-By-Step Guide to Build Your Brand: 16 Steps for Creating and Maintaining an Unforgettable Business by Sheralyn Pratt. She's been helping clients brand themselves for years through her company, Wicked Sassy. I ordered her book just a few days after its release on Amazon. It's pretty awesome—especially for small business owners, home businesses, AND for authors and artists.
I work with clients every day who are trying to brand themselves—picking colors, deciding on a logo, figuring out what they're actually doing. Other than a few basic words of advice, I don't usually do much training on branding or assist in making any of these decisions. I just build the logo or website according to their instructions.
But sometimes I can't get a clear picture of what the client wants because they don't have a clear picture. Build Your Brand is the easiest-to-understand, written-for-the-lay-person book on branding I've ever read. It's a really quick read that helps you get to that clear picture. The branding pyramid is awesome—asking you questions and having you brainstorm in little bite-size chunks, so you don't get overwhelmed. I also like that Pratt gives several recognizable examples for all of the concepts she discusses. It's pretty easy to look at what others have done and figure out a way to apply it to your company or project.
If you've never tried to brand yourself or your company, or if it's time to refocus a little, I recommend you give Build Your Brand a read. Then go hit her website for lots of really awesome information.